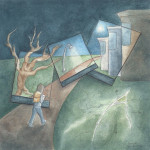 Sometimes the best way out of the darkness is to walk through it. A woman transforms her life through motion.
Subscribe: Apple Podcasts | Android | Stitcher | RSS | More
---
Forward Momentum Credits
Produced, edited and mixed by Vanessa Lowe.
Caitlin Myer's writing and night photos can be found here.
Thank you to Robert Shaw for his generous support on Patreon.
Music
Nocturne theme music by Kent Sparling
Hovering Dew, unreleased
Fellahin Snapshot, Route Canal Diary
Weren't Long, Under New Manna
Pearl Rolling in an Open Palm, Leaf Spring
Held Under, Leaf Spring
Unreleased
Episode Artwork: Robin Galante