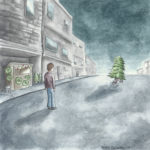 There's a funny thing about Christmas in New York: In a city where most of the living trees are clumped together in just a few areas, right around Thanksgiving new clumps of trees start popping up all over this mostly concrete and asphalt setting. The tree stands sprinkled throughout the city create a festive air, but there's another dimension to the world of Christmas trees in New York City at night.
Subscribe: Apple Podcasts | Android | Stitcher | RSS | More
---
 Tree People Credits
Nocturne is produced by Vanessa Lowe.
Production help on this episode from Joel Shupack.
You can find Joel Shupack's new podcast, Square Mile, here.
Nocturne is produced with support from KCRW's Independent Producer Project, which provides resources to creative storytellers around the world.
Special thanks to Daniel Linhart, Alex Espinoza, Jeremy Cherfas, Michael, Katie Burkart, Herrin Hopper, Heidi Anderson, David Green, Jemma, Artorias Stark, Hugo Arenivas, Joseph Potter, Mary Jo Eyler, Camilla Meshiea, Marta Pelrine-Bacon, Tara,  Lauren Smith, Chris Glover, Edward Champion.
Music
Nocturne theme music by Kent Sparling
Also by Kent Sparling:
Callum; Farther You Are; Galvin Needle; Wait; Silent Night; Oh Christmas Tree; Cuttings; Carbon Source, Unreleased
Deck the Halls
Jingle Bells Swing
Source recording for Carol of the Bells
Episode Artwork: Robin Galante