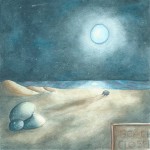 The moon, the stars and the tides are through-lines connecting us to the beginning of life on our planet. These lines can flicker in and out of awareness in the glare of modern culture. But there are ancient creatures living among us, for whom every breath is a reflection of the moon on the water.  One in a thousand hatchling sea turtles survive to make it back to the beach of their birth, lay their own eggs, and complete the cycle. There are a hundred ways for things to go wrong.
Subscribe: Apple Podcasts | Android | Stitcher | RSS | More
---
Stars in Unison Credits
Produced, edited and mixed by Vanessa Lowe.
Jennifer Westerman read excerpts from her essay "Heart of the Sky" which was published in
Let There Be Night: Testimony on Behalf of the Dark. Edited by Paul Bogard.
Special thanks to Neva Moore, Jemma, Artorias Stark, David Green, Rexter Chambers, David Fisher, Hugo Arenivas, Joseph Potter, Robert Shaw and Camilla Meshiea.
Links for information about sea turtles:
Cape Hatteras National Seashore
Interesting Smithsonian Article
Sea Turtles and Artificial Light
Music
Nocturne theme music by Kent Sparling
Also by Kent Sparling:
Turtle Wash, Unreleased; Tamarind Cup, Half Full, Camphor and Caraway; Monastery Springs, Unreleased
SSL14 and SSL8
Blowholes, Unreleased
Walk of the Turtles and Wind Harp, Unreleased
Prisoners in the Courtyard
Episode Artwork: Robin Galante