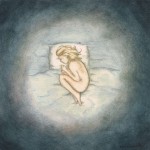 Sleep can serve as both refuge and captor. That's the case for Monica, who's blessed with the enviable ability to consistently sleep through the night, almost without fail, no matter what's going on. During one of the most difficult times of her life, this gift became a painful liability.
Subscribe: Apple Podcasts | Android | Stitcher | RSS | More
---
Letting Go Credits
Produced, edited and mixed by Vanessa Lowe.
Monica Wesolowska's memoir is called Holding Silvan. That and more of her work can be found here.
Special thanks to Neva Moore, Jemma, Artorias Stark, David Green, Rexter Chambers, David Fisher, Hugo Arenivas, Joseph Potter, Robert Shaw, Mary Jo Eyler, Leslie-Ann Case and Camilla Meshiea.
Music
Nocturne theme music by Kent Sparling
Also by Kent Sparling:
Be Quietly Different, Unreleased
SSL1A, SSL6 and SSL8A
Blowholes and other pieces, Unreleased
Episode Artwork: Robin Galante